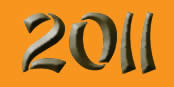 The evening before the Tattoo Festival 2011
in Wat Bang Phra
18 March 2011
Blessing the tattoo needles and tattoing Sak Yant


To see a picture large, just move with the mouse over it. If you want to see a picture in high quality, click with the left mouse button on it.

On the evening before the festival a stage was built where the mentally strongest and most powerful monks of Wat Bang Phra will sit during the Tattoo Festival ceremony. On the next day, the day of the tattoo event, they will focus their mental energy to bless and fill the Sak Yant tattoos with magical power.
After the stage for the tattoo monks is prepared for the next day, the monks prepares themself for the big event. The tattoo monks will have a lot of work, tattooing two days without sleeping. Mainly the monks tattoo only small tattoos, which takes about 5-10 minutes. And in this one night, thousands of tattoos has to be made and blessed.

After the ceremony of blessing the tattoo needles the monks can start to work and tattoo the next 24 hours. The monks make no difference if a monk, a Thai or a Farrang (foreigner) wants to get a sacred tattoo. The Thai magic of Sak Yant was and is always available to anyone who is interested in it.




I was also affected positively by the Sak Yant magic: A monk invited me to get a holy tattoo from him. As I kneeled down in front of him, he looked into my soul and selected a Sak Yant which has the best influece to me. He is actually a great artist who works entirely without a stencil or template. After the tattoo he blessed the Sak Yant with a special Mantra, called kata, which is spoken in the dying language Sanskrit.
Also Luang Pi Nunn, who already looks very tired, tattooed all night and transfers his magic energy to the Sak Yant carrier.

This night, the night before the big Tattoo Festival at Wat Bang Phra was very tiring for the monks, because they had to concentrate on each individual Sak Yant tattoo and they transferred also every time a part of their magical energy to the Sak Yant carrier.

In addition to the thousands of Thais who wanted to be tattooed that night, also some monks come to get a Sak Yant, or to expand their existing Sak Yant and fill it up again with magic and mental power.
It is not uncommon for monks to get a Sak Yant on the head.