The Monks and Ajans are Tattooing
the whole day and the night

The Night before the Sak Yant Wai Kru Festival 2013



Now the night ist starting. All monks and Ajans were already tattooing Sak Yant the whole day, without respite. Two people are stretching the skin, that the monk Luang Pi Nunn can make perfect fine lines.
In this night, it took about 4 hours waiting time, to get a small Sak Yant Tattoo.

Click on a picture to enlarge it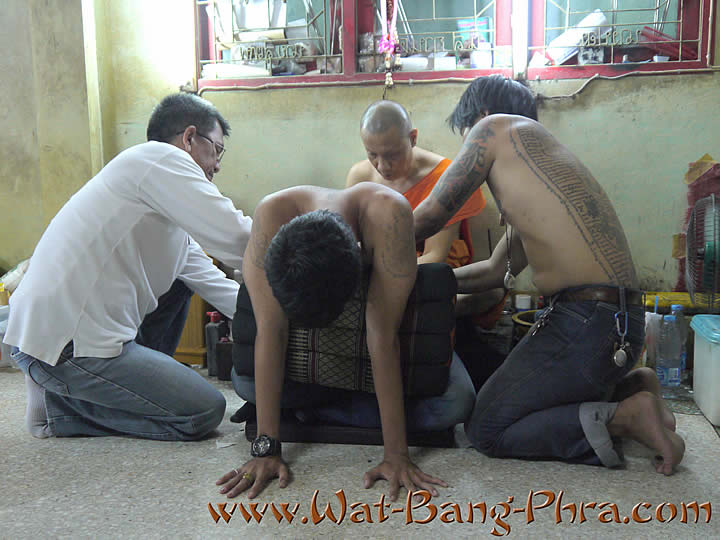 On this evening Luang Pi Nunn looks very tired in his face. We also did not see him at the Wai Kru Festival, the next day. He must be really exhausted after tattooing hundreds of tattoos this day.


People from all parts of the county are comming to the sacred temple of Wat Bang Phra. Many of them are policeman, soldiers or have other dangerous jobs. The Sak Yant gives them luck and protection.



In this night, many tattoo artist monks are working around the clock. Also for the monks, the Wai Kru is one of the most important days in the year.



But not only monks make the Sak Yant Tattoos. There are also a lot of tattoo masters, so called Ajan, who are professional tattoo artists and who also knows the art of the Sak Yant tattoos.
After an Ajan finished his work, a monk bless the tattoo and sings a specia kata to activate the magic power.
For guests and monks the temple build some dormitory for resting.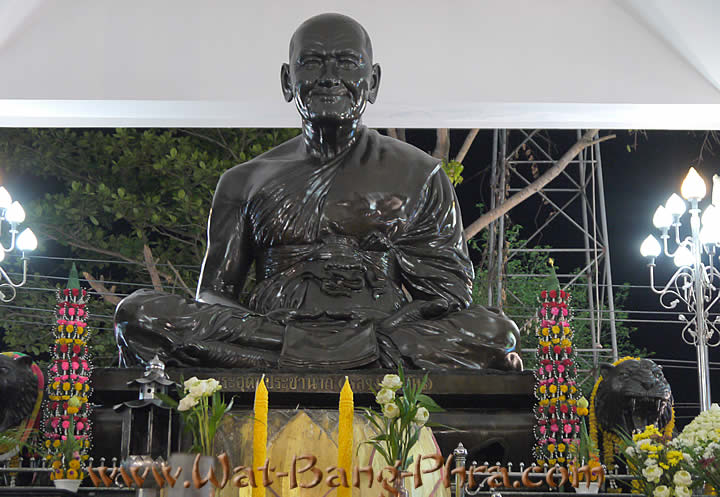 Now the morning is nearly coming...
But the night is still black and the statue of the always smiling abbot Luang Phor Pern is shining in the moon light.

<< Back to Part 1: The beginning of the Wai Kru Festival <<